Getting Started
Choosing the proper size aquarium and stand
Choosing the proper heater and air pump/filter
Foods
Live Foods
Plants
Fish
Chat
click here to talk to an operator to this site
click here to talk to other guests
For Sale

Questions & Comments
click here to fill out a form
Currently the form is not working so you can contact me by this email address.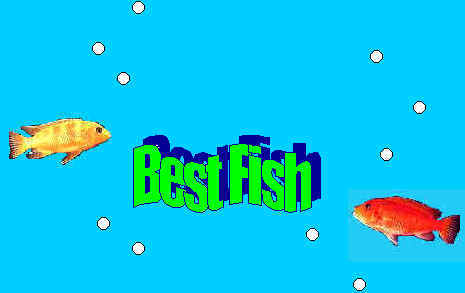 This site is currently under construction, if you have any suggestions of what you want to see on this site than send me an email to the email address to the left of this page.
Welcome to Best Fish!
Many people think it is hard and difficult to raise fish but it is not if you understand how to take care of them. So I have made this web page to help you learn how to take care of your fish better.
Fish keeping has become a very popular hobby. A properly decorated aquarium helps make a peaceful, relaxing atmosphere away from every day stress.
Aquariums also have other benefits. Research has shown that people with high blood pressure that have an aquarium have greatly reduce their blood pressure and they help reduce stress. In very stressful environments such as a hospital, veterinarian, and dental offices, an aquarium will help relax the patients.
Taking care of an aquarium can be a learning experience for the whole family. You can learn from keeping an aquarium, how fish breed and what they need to keep them in perfect health.
On this web page I will teach you how to raise fish to keep them healthy and live a full life. Now lets learn about fish. Click on one of the categories you want to learn about and well get started.